English Heritage sites near Horwich Parish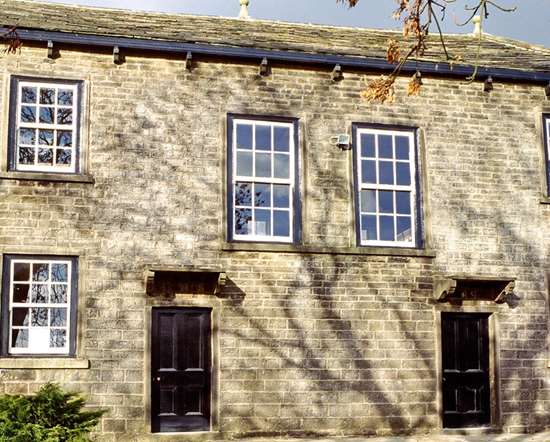 GOODSHAW CHAPEL
14 miles from Horwich Parish
English Heritage's only Nonconformist place of worship, this atmospheric Baptist chapel displays a complete set of box-pews, galleries and pulpit dating from c. 1742 to 1809.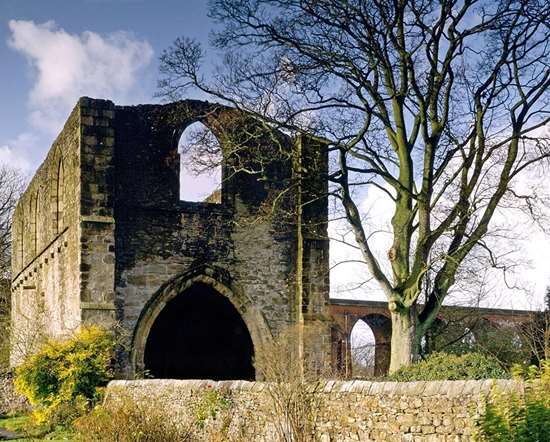 WHALLEY ABBEY GATEHOUSE
16 miles from Horwich Parish
The 14th century gatehouse of the nearby Cistercian abbey, which was the second wealthiest monastery in Lancashire. The first floor of the gatehouse was probably a chapel.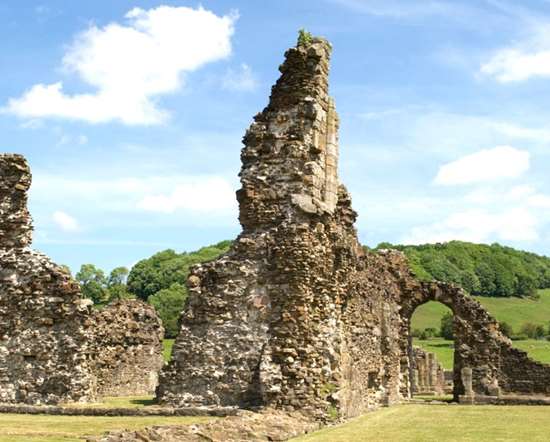 SAWLEY ABBEY
23 miles from Horwich Parish
The remains of a Cistercian abbey founded in 1148, set on the banks of the Ribble against a backdrop of dramatic hills.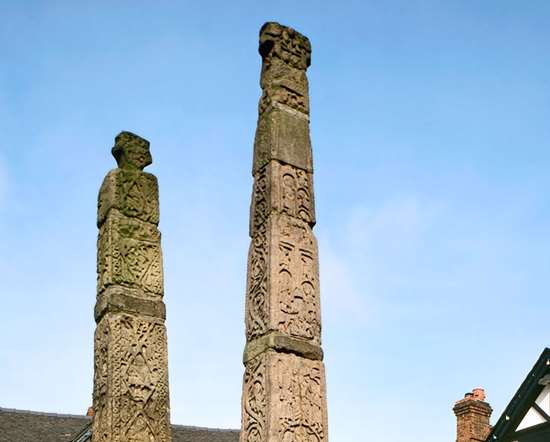 SANDBACH CROSSES
32 miles from Horwich Parish
The two massive Saxon stone crosses, elaborately carved with animals and Biblical scenes including the Nativity of Christ and the Crucifixion, dominate the cobbled market square of Sandbach.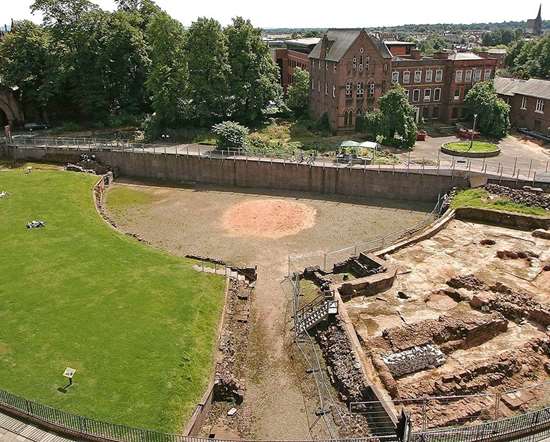 CHESTER ROMAN AMPHITHEATRE
32 miles from Horwich Parish
The largest Roman amphitheatre in Britain, used for entertainment and military training by the 20th Legion, based at the fortress of 'Deva' (Chester).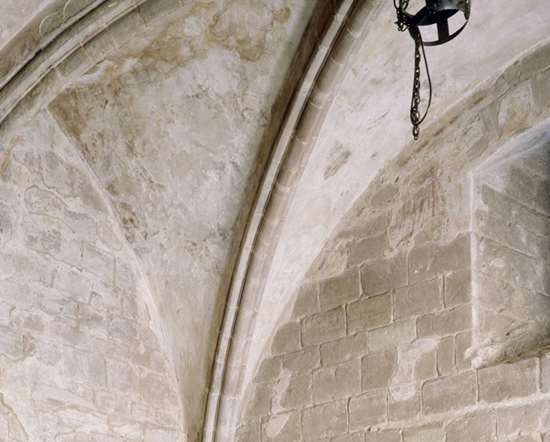 ---
Churches in Horwich Parish
St Catherine's Church, Horwich

Richmond Street Horwich
(01204) 697162


We are a family friendly church, with a gentle mixture of the traditional and the contemporary, and are delighted to welcome new people.
St Elizabeth's Church, Horwich

Cedar Avenue Horwich
(01204) 697162


We seek to be a church for our time serving families, community and each other in the love of Jesus Christ

We are a friendly, family orientated church with a variety of services to suit everyone. We meet every week at 10 am. There are always activities for 3 - 14 year olds, both as part of the service and in their own age appropriate groups.

We will be delighted to welcome you to any of our events.


We are part of the Horwich & Rivington Team of Anglican Churches.
---
Pubs in Horwich Parish
8 Bit Micro Arcade
B33R@33
Bank Top Brewery Ale House

36 Church Street, Horwich, BL6 6AD
(01204) 693793
banktopbrewery.com/


This was the second Bank Top Brewery pub to open. It sits in a conservation area opposite Horwich Parish Church and alongside 18th and 19th century cottages associated with the area's history of textile weaving and with the nearby historic...
Beehive

991 Chorley New Road, Horwich, BL6 4BA
(01204) 692104
greeneking-pubs.co.uk/pubs/lancashire/be...


Large food orientated pub with the recently introduced carvery as well as the normal menu. A Wacky Warehouse at the back is great for the kids (a charge is made). Car park is via the main road from Horwich or along the side road after the r...
Beeley's Bar
Blundell Arms

Chorley Old Road, Horwich, BL6 6PY
(01204) 841194
chefandbrewer.com/pub/blundell-arms-horw...


Large imposing roadside pub on the edge of the West Pennine Moors, concentrating on food. There are four handpumps with at least two cask beers normally available. <hr/><b>Chorley Inns and Taverns : </b><a href="https://chorleyinnsandtaver...
Bolton Golf Club

Lostock Park, Lostock, BL6 4AJ
(01204) 843067
boltongolfclub.co.uk/


Awaiting Further Details
Bowling Green
Bridge Hotel

121 Church Street, Horwich, BL6 7BR
(01204) 427273
thebridgehotel.co.uk/


The recent refurbishment has kept many of the wonderful original features including the tile work whilst incorporating a more modern style. The layout has been retained with 3 rooms off the main bar. Quality pub style food is served until 8...
Crown

1 Chorley New Road, Horwich, BL6 7QJ
(01204) 693109
joseph-holt.com/pubs/view/crown


A grand local landmark, close to the beautiful countryside of Rivington and the West Pennine Moors. Lever Park across the road was a gift from Lord Leverhulme, the soap magnate and great benefactor to his home town. The pub is a regular win...
Crux Emporium
Curley's Dining Rooms & Trout Fishery

Wallsuches, Off Chorley Old Road, Horwich, BL6 6PP
(01204) 691783
curleysdiningrooms.co.uk/


Originally opened as a large wooden shed bought second hand from a garden centre in Liverpool, then came Mark 2 version, a larger wooden shed via an eBay purchase followed by a far more respectable stone building that we see today. There is...
Greenwood Arms
Horwich Conservative Club
Horwich Golf Club
Horwich Reform Club
Horwich RMI

Ramsbottom Road, Horwich, Bolton, Horwich, BL6 5NH
(01204) 468085
horwichrmi.com/


Originally built to serve the 4,000 employees at the now closed railway workshops and foundaries across Chorley New Road. There are several function rooms, a cricket pitch and bowling green available on the site.
Jolly Crofters

Chorley Old Road, Horwich, BL6 6RE
(01204) 696885
thejollycrofterspub.co.uk/


The pub has an emphasis on food but also manages to have a community feel. There are regular quiz and music nights and other social events.The pub makes the perfect starting (or more likely finishing point) for walks to the local landmark o...
JR's Ale House
Little Vic
Loft

179, Lee Lane, Horwich, BL6 7JD
(01204) 695506
tapandcorkbars.co.uk


Small and comfortable bar which has been refurbished for its new life concentrating on Gins. Its size encourages friendly chat between a mixed crowd of drinkers looking to experience the more modern and adventurous style of over 80 of the o...
Market Tavern & Escape Lounge
Nibblers Bar & Restaurant
Nick's Restaurant
Old Original Bay Horse
Queen's Head
Saddle Inn

55 Lee Lane, Horwich, BL6 7AX
(01204) 693797
ambertaverns.co.uk/pub/the-saddle/


The pub is one of the most popular in Horwich largely down to its competitive priced drinks, comfortable fittings, community events and range of entertainment with regular TV Sport. Whilst there are two hanppumps on the bar quite often onl...
Sam's Bar
Tails & Ale
Victoria & Albert
Victoria Tavern